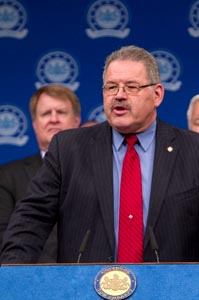 On February 12, 2013, Senate Bill 391 was introduced by State Senator Tim Solobay and, if passed, will allow for more leniency in expungement law. The current Pennsylvania law stated that crimes other than summary offenses cannot be expunged until the offender turned 70 years old or has been deceased for more than three years. The new Bill would allow individuals who have misdemeanors of the 2nd and 3rd degree to apply to have their criminal records if they have not reoffended in ten years for 2nd degree misdemeanors, and seven years for 3rd degree misdemeanors.
Senator Tim Solobay is adamant about getting this Bill to pass after similar legislation, Senate Bill 1220, did not make it to a floor vote. Senator Solobay announced that the major intent of this Bill is to offer more opportunities for former offenders to find jobs. He believes that his will prevent those with a criminal history from reoffending. Those who are eligible for expungement can remove the stigma that follows a criminal judgment, which will allow them to continue living their life in a positive manner.
This bill does not apply to offenses punishable by more than one year in prison or pertaining to certain forms of assault, sex offense, cruelty to animals, firearms offenses, and certain other crimes. Expungement will be granted solely at the discretion of the court.
Read More